When it comes to weddings, few things can match the heart-warming sight of a little flower girl gracefully making her way down the aisle, spreading petals with every step and bringing smiles to everyone's faces. As a fashion expert and devoted blogger for kids, I am thrilled to be your guide on an exciting journey into the world of flower girl dresses. In this comprehensive blog post, we will explore the latest styles, trends, and accessories that will help transform your precious little one into a blossoming beauty on that special day. Let's embark on this enchanting floral adventure together!
On This Page
Flower Girl Dress Styles
Lace Flower Girl Dresses
One of the most elegant and timeless choices for a flower girl dress is the delicate lace ensemble. Lace flower girl dresses effortlessly evoke a sense of grace and sophistication. Adorned with intricate patterns and intricate details, these dresses bring a touch of vintage charm to any wedding. The soft and delicate fabric adds a touch of ethereal beauty, creating a captivating ensemble that will make your little one feel like a true princess. From full-length gowns to knee-length dresses, lace flower girl dresses offer a wide range of styles to suit different preferences and wedding themes.
Tulle Flower Girl Dresses
For a dreamy and whimsical look, tulle flower girl dresses are an excellent choice. These dresses feature lightweight and airy layers of tulle that create a fairy tale-like appearance. With their soft and flowing silhouettes, tulle dresses add an enchanting touch to the overall bridal party aesthetic. Whether adorned with delicate embellishments or paired with a satin sash, tulle flower girl dresses exude a sense of innocence and charm. From classic white to soft pastel shades, these dresses are perfect for creating a romantic and ethereal atmosphere.
Satin Flower Girl Dresses
If you desire a dress that exudes luxury and elegance, satin flower girl dresses are an ideal choice. The smooth and lustrous fabric of satin creates a regal look that perfectly complements the bride's gown and the overall wedding theme. Satin dresses often feature subtle embellishments, such as embroidered bodices or beaded accents, adding a touch of sparkle to the ensemble. From ball gown styles to A-line silhouettes, satin flower girl dresses offer versatility and sophistication, making your little princess feel like royalty on the special day.
Chiffon Flower Girl Dresses
A chiffon flower girl dress is a type of dress typically worn by young girls who play a special role in weddings. Flower girls are usually between the ages of three and eight and are tasked with scattering flower petals down the aisle before the bride's grand entrance. Their dresses are designed to be adorable, elegant, and age-appropriate.
Chiffon is a lightweight, sheer fabric known for its delicate and flowing nature. It is often chosen for flower girl dresses due to its ethereal appearance and soft texture. Chiffon dresses have a graceful drape that creates a whimsical and romantic look, perfect for a young girl participating in a wedding ceremony.
Chiffon flower girl dresses come in various styles and designs. They can feature different necklines such as sweetheart, scoop, or halter, and may have embellishments like lace, beads, or appliques. The dress length can vary, ranging from tea-length (falling between the knee and ankle) to floor-length.
Common colour choices for chiffon flower girl dresses include soft pastels like blush pink, lavender, mint green, or ivory, which complement the overall wedding colour palette. However, white chiffon dresses are also popular, as they resemble miniature versions of the bride's gown.
When selecting a chiffon flower girl dress, factors such as comfort, ease of movement, and the ability to match the wedding theme are essential considerations. It's important to ensure that the dress fits the flower girl properly and allows her to move comfortably throughout the day.
Chiffon flower girl dresses are an enchanting addition to any wedding, adding a touch of elegance and innocence to the ceremony. They are cherished keepsakes that create lasting memories for both the young girls and the wedding party.
Sequin Flower Girl Dresses
A sequin flower girl dress is a dazzling and glamorous choice for young girls who are part of a wedding ceremony. Sequins are small, shiny discs that are attached to fabric to create a sparkling effect. These dresses are designed to make the flower girl stand out and add a touch of glitz to the overall bridal party.
Sequin flower girl dresses come in a variety of styles and designs. They can feature different silhouettes, such as A-line, ball gown, or sheath, and may have various sleeve lengths, from sleeveless to cap sleeves or long sleeves. The dresses can also have different necklines, such as round, V-neck, or illusion.
Sequin dresses for flower girls often have a fitted bodice and a flared skirt, creating a princess-like appearance. The sequins can cover the entire dress or be strategically placed as accents, such as along the neckline, waistline, or hemline. Some dresses may combine sequins with other embellishments like lace, tulle, or embroidery for added charm.
When it comes to colours, sequin flower girl dresses offer a wide range of options. They can be found in classic shades like silver, gold, or rose gold, which create a timeless and elegant look. Other popular choices include pastel colours like blush pink, mint green, or lavender, as well as bold and vibrant hues like royal blue or fuchsia.
Sequin flower girl dresses are often chosen to match the wedding theme or colour scheme, adding a touch of sparkle and glamour to the event. They are particularly popular for evening or formal weddings but can also be incorporated into other wedding styles, depending on the overall aesthetic.
When selecting a sequin flower girl dress, it's important to consider the comfort of the young girl wearing it. Some sequin dresses have a soft lining or are made with lightweight fabrics to ensure they are comfortable to wear for extended periods. It's also crucial to choose a dress that fits properly and allows freedom of movement for the flower girl to enjoy the special day.
Sequin flower girl dresses are a stunning choice that can make a memorable statement at any wedding. They offer a magical and eye-catching appearance, leaving a lasting impression on guests and creating a delightful experience for the young girl wearing it.
Vintage Flower Girl Dresses
For those seeking a touch of nostalgia and classic charm, vintage flower girl dresses are an enchanting option. These dresses harken back to a bygone era with their intricate lace, ruffles, and timeless details. Vintage-inspired flower girl dresses often feature high necklines, puffed sleeves, and tea-length hemlines, evoking a sense of old-world elegance. The subtle colour palettes, delicate embroidery, and charming buttons make these dresses a perfect choice for vintage-themed weddings or those wanting to add a touch of vintage flair to a contemporary celebration.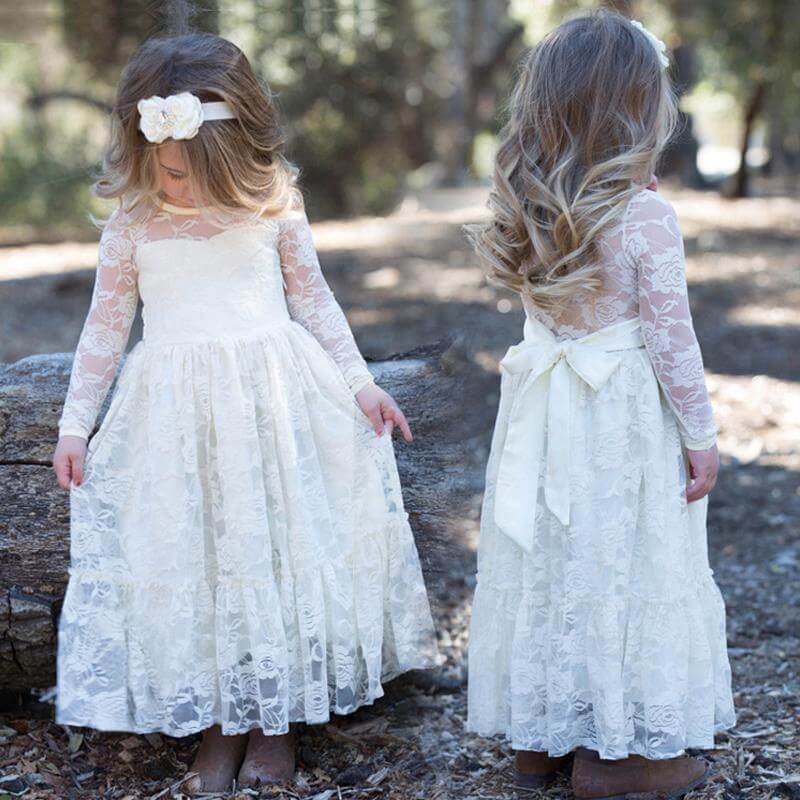 Custom Flower Girl Dresses
For a truly unique and personalised look, custom flower girl dresses provide an opportunity to collaborate with talented designers and create a dress that perfectly matches your vision. Custom dresses allow you to select the fabric, colour, style, and embellishments, ensuring that every aspect reflects your little girl's personality and complements the overall wedding aesthetic. From intricate lace overlays to whimsical floral accents, the options for customisation are endless. By investing in a custom flower girl dress, you can create a one-of-a-kind ensemble that will make your little one feel extra special and cherished on the big day.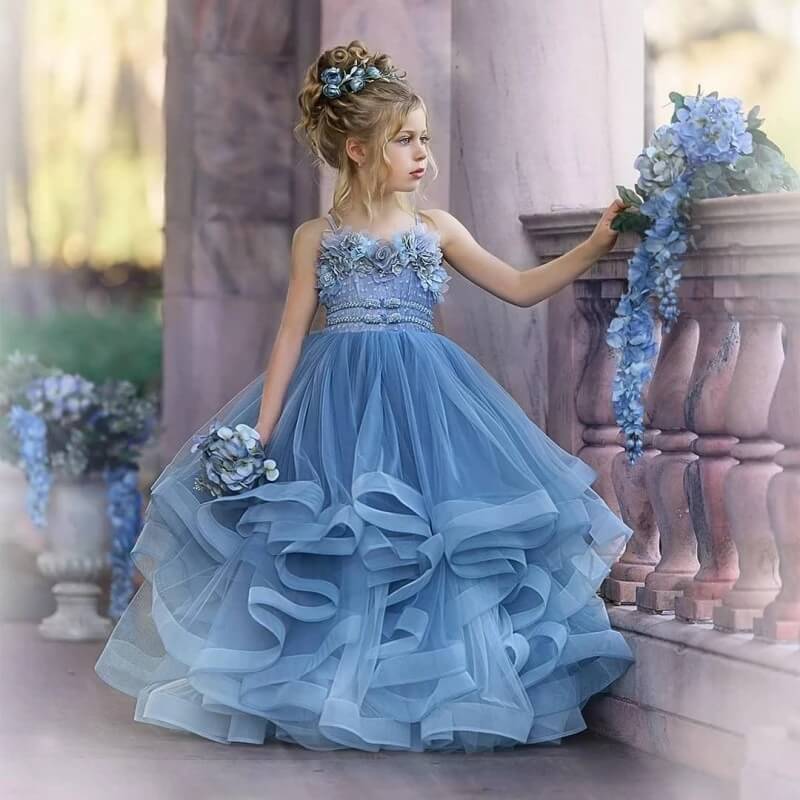 In the next section, we will explore the latest flower girl dress trends, so stay tuned for even more fabulous options to consider!
Flower Girl Dress Trends
Floral Print Flower Girl Dresses
Floral prints have made a significant comeback in recent years, and they have found their way into flower girl fashion as well. Floral print flower girl dresses offer a fresh and whimsical look, adding a vibrant burst of colour to the wedding party. Whether it's delicate blossoms or bold blooms, these dresses capture the essence of spring and bring a sense of joy and playfulness to the occasion. From dainty tea-length dresses to flowing maxi styles, floral print dresses allow your little flower girl to embody the beauty of nature.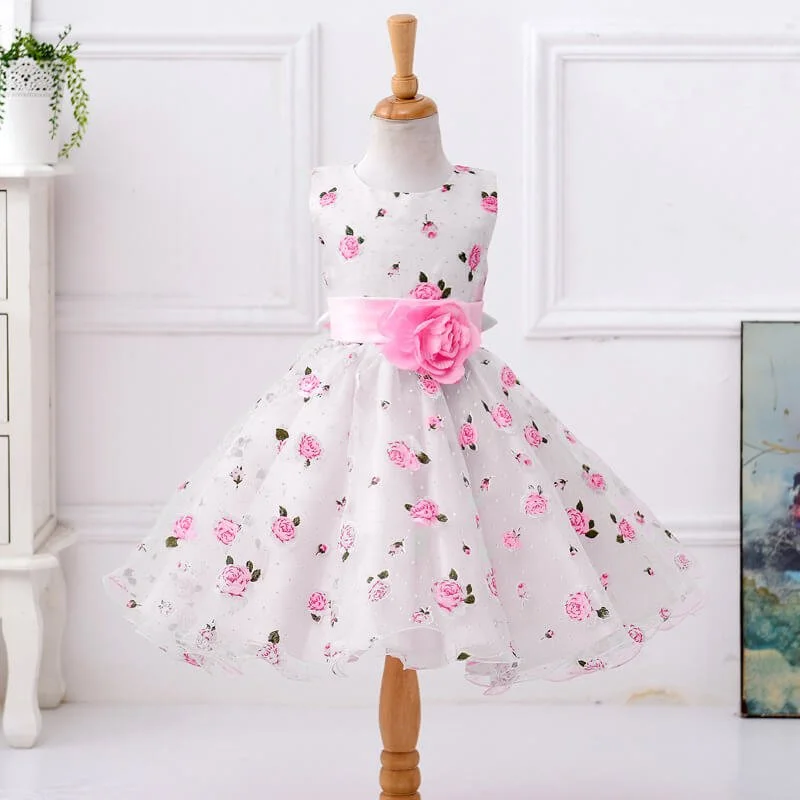 Princess Flower Girl Dresses
All little girls dream of being a princess, and with princess-inspired flower girl dresses, that dream can come true. These dresses feature elements such as voluminous tulle skirts, intricate beadwork, and enchanting details like bows and ribbons. With their fairytale-like designs, princess flower girl dresses create a magical and whimsical ambiance. Whether it's a ball gown silhouette or an A-line dress, these regal creations make your flower girl feel like the belle of the ball, radiating grace and charm.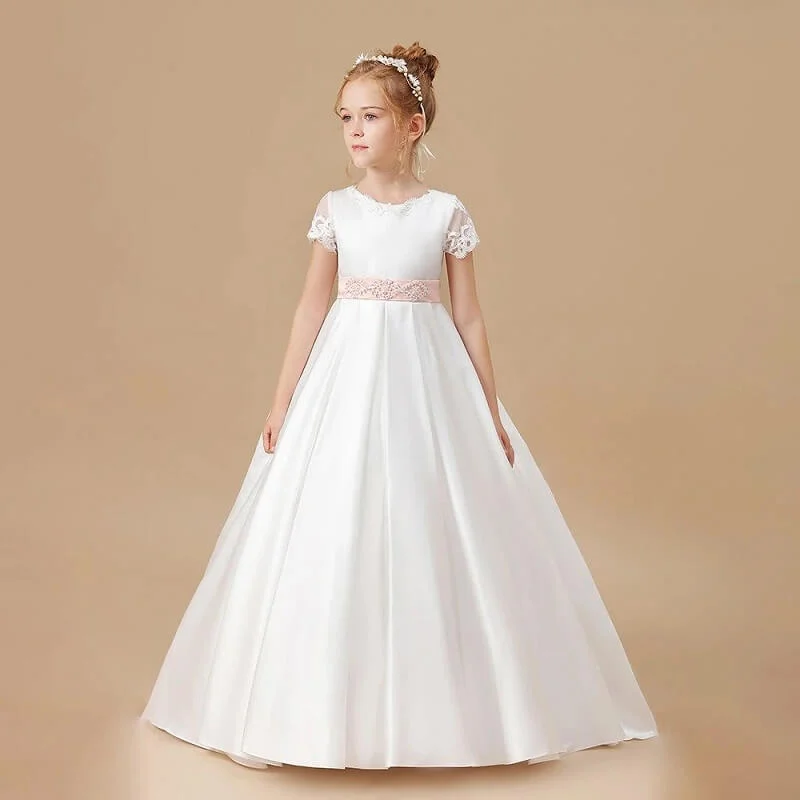 Boho Flower Girl Dresses
The boho trend has taken the wedding world by storm, and flower girl fashion is no exception. Boho flower girl dresses exude a free-spirited and effortless vibe, combining relaxed silhouettes with natural and earthy elements. These dresses often feature flowing layers of lace or tulle, delicate crochet detailing, and floral or foliage accents. With their laid-back elegance, boho flower girl dresses are perfect for outdoor, beach, or bohemian-themed weddings, allowing your little one to embrace a carefree and whimsical style.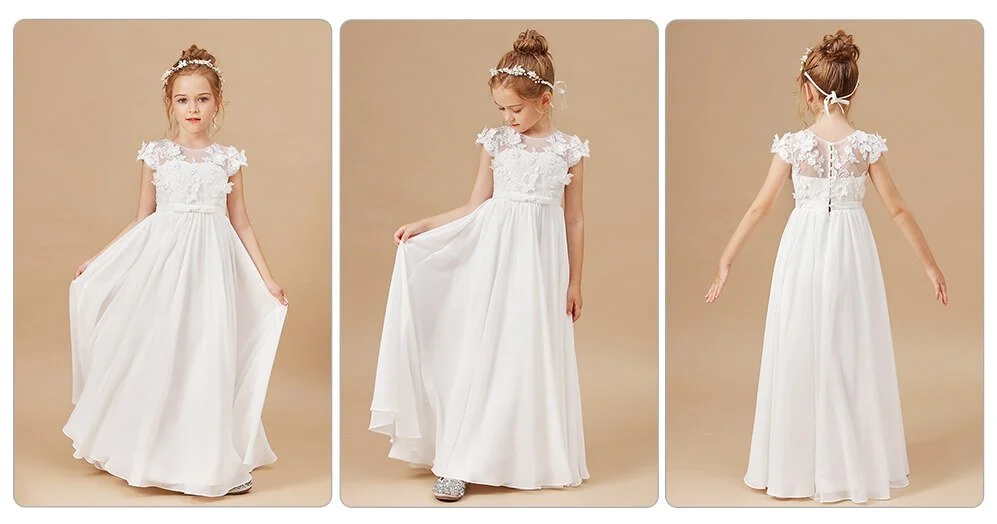 White and Ivory Flower Girl Dresses
White and ivory are classic choices for flower girl dresses, symbolising purity and innocence. These timeless hues perfectly complement the bride's gown and create a cohesive look within the wedding party. White and ivory flower girl dresses can come in various styles, ranging from simple and minimalist to intricately designed pieces. Whether it's a sleek satin dress or a charming lace ensemble, these pristine colours ensure that your little flower girl shines with grace and elegance.
Pastel Flower Girl Dresses
Soft pastel shades have become increasingly popular for flower girl dresses, offering a delicate and dreamy aesthetic. From blush pink to baby blue, these gentle hues create a romantic and whimsical atmosphere. Pastel flower girl dresses often feature airy fabrics like tulle or chiffon, adorned with subtle embellishments or floral appliques. These dresses add a touch of sweetness and femininity to the overall wedding palette, allowing your flower girl to showcase her youthful and angelic charm.
Stay tuned for the next section, where we'll discuss how to find affordable flower girl dresses that fit your budget without compromising on style and quality. Your little one is sure to shine while keeping your wallet happy!
Benefits of Finding Affordable Options
Finding affordable flower girl dresses doesn't mean sacrificing style or quality. In fact, opting for budget-friendly options offers several benefits. Firstly, it allows you to allocate more of your wedding budget to other important aspects of the event. Secondly, affordable dresses can be just as beautiful and charming as their higher-priced counterparts, ensuring that your flower girl looks stunning without breaking the bank. Lastly, by exploring affordable options, you may discover unique and lesser-known designers or boutiques that offer exceptional value for money.
3 Tips for Finding Budget-Friendly Dresses
Shopping Online: Online retailers often provide a wide range of affordable flower girl dresses. Take advantage of sales, discounts, and promotions to find excellent deals. Remember to check the sise charts and read customer reviews to ensure the best fit and quality.
Off-the-Rack Options: Visit local boutiques or department stores that offer off-the-rack flower girl dresses. These ready-made dresses are usually more affordable than custom-made ones, and you can still find beautiful designs and styles that suit your preferences.
Borrowing or Repurposing: Consider borrowing a flower girl dress from a friend or family member who has recently had a wedding. With a few alterations, you can customise the dress to fit your flower girl perfectly. Alternatively, you can repurpose a dress by making slight modifications or adding embellishments to give it a fresh and unique look.
Remember, while looking for affordable options, prioritise comfort and quality. Look for well-constructed pieces with durable fabrics to ensure that the dress can withstand the excitement and activities of the wedding day. With a little creativity and resourcefulness, you can find the perfect affordable flower girl dress that meets both your budget and style preferences.
Stay tuned for the next section, where we will discuss the importance of coordinating flower girl dresses with the bridesmaid dresses for a cohesive and visually appealing bridal party look.
Matching Flower Girl and Bridesmaid Dresses
Importance of Coordination and Cohesive Look
Coordinating the flower girl dress with the bridesmaid dresses creates a cohesive and visually appealing bridal party. When the dresses share similar colours, fabrics, or embellishments, it enhances the overall aesthetic of the wedding. Matching flower girl and bridesmaid dresses create a harmonious and unified look that is pleasing to the eye and adds an element of sophistication and elegance to the event.
Tips for Achieving a Harmonious Bridal Party Aesthetic
Similar Colours: Choose flower girl dresses that complement the colour scheme of the bridesmaid dresses. Opt for shades that are either identical or within the same colour family to create a cohesive look. For example, if the bridesmaids are wearing blush pink, consider a lighter or darker shade of pink for the flower girl.
Fabrics and Embellishments: Select flower girl dresses that incorporate similar fabrics or embellishments as the bridesmaid dresses. This could include lace accents, satin ribbons, or matching floral details. The coordination in materials will tie the bridal party's attire together beautifully.
By ensuring coordination between the flower girl and bridesmaid dresses, you create a visually striking and unified bridal party that enhances the overall ambiance of your special day.
Stay tuned for the next section, where we will discuss the essential accessories that complete the flower girl's look and add that extra touch of charm and elegance.
Flower Girl Dress Accessories
Importance of Accessories
Accessories play a crucial role in completing the flower girl's ensemble and adding a touch of charm and elegance. These carefully chosen details can elevate the overall look and make your little one feel even more special. Here are some essential flower girl dress accessories to consider:
Flower Girl Dress Shoes
Choosing the right pair of shoes is essential to ensure your flower girl's comfort and mobility throughout the day. Opt for comfortable and age-appropriate shoes that match the style and colour of the dress. Ballet flats, Mary Janes, or sandals are popular choices for flower girls. Consider materials like satin or leather for a polished and stylish look.
Flower Girl Dress Boutiques
When it comes to finding the perfect flower girl dress and accessories, boutique stores specialising in children's formalwear can be a treasure trove. These boutiques offer a curated selection of high-quality dresses, shoes, and accessories designed specifically for flower girls. The personalised service and attention to detail can make the shopping experience memorable and ensure that you find the ideal pieces to complete your flower girl's look.
Flower Girl Dress Inspiration
Drawing inspiration from various sources can help you envision the perfect flower girl ensemble. Browse through bridal magazines, websites, and social media platforms for inspiration boards, real wedding photos, and fashion editorials. Look for unique colour combinations, accessory ideas, and styling tips that resonate with your vision. Creating a mood board or Pinterest board can be a helpful visual tool to gather and organise your inspirations.
Flower Girl Etiquette and Traditions
The Role of the Flower Girl
The flower girl holds a special place in wedding traditions, symbolising innocence, purity, and the future of the couple. Traditionally, she walks down the aisle before the bride, scattering flower petals along the path. However, modern variations allow for different interpretations of the flower girl's role, such as carrying a small bouquet, a decorative basket, or even blowing bubbles.
Age and Makeup for Flower Girls
The ideal age for a flower girl is typically between 3 and 8 years old, but this can vary depending on the individual child and the couple's preferences. As for makeup, it's generally advisable to keep it minimal for young flower girls. A touch of lip gloss, a light dusting of blush, and perhaps a subtle shimmer on the eyelids can enhance their natural beauty without appearing overly done.
Flower Girl's Position in the Processional
Traditionally, the flower girl walks down the aisle before the bride, scattering petals or performing her designated role. However, variations can occur based on personal preferences and cultural or religious traditions. Some couples choose to have the flower girl walk alongside the ring bearer, while others may opt to have her walk with the bridesmaids.
Who Pays for the Flower Girl Dress and Hair?
The responsibility for purchasing the flower girl dress varies. In the UK, it is customary for the bride's family to cover the cost of the flower girl dress, similar to the bridesmaids' dresses. However, it's essential to discuss this with the bride and groom, as each wedding and family situation may differ. As for the flower girl's hair, it is typically the responsibility of the flower girl's family to ensure her hair is styled appropriately for the occasion.
Flower Girl's Role at the Wedding
During the wedding ceremony, the flower girl's primary role is to add a touch of charm and innocence to the proceedings. After the processional, she may sit with her family or be seated with the bridal party. Depending on the wedding's traditions, the flower girl may participate in additional moments, such as joining the bridal party for photos or having a special dance at the reception. It's important to communicate with the wedding planner or coordinator to understand the specific expectations for the flower girl's involvement throughout the event.
The role of the flower girl is not only significant but also a memorable experience for the little girl and the entire wedding party. By understanding and respecting the etiquette and traditions associated with the flower girl, you can ensure that she fulfils her role with grace and adds a touch of enchantment to your special day.
Conclusion
Choosing the perfect flower girl dress is an exciting and important task that requires attention to detail and consideration of various factors. By exploring different styles, trends, and budget-friendly options, you can find a dress that reflects your vision and makes your little flower girl feel like a princess. Coordinating her dress with the bridesmaid dresses and accessorising thoughtfully completes her look and enhances the overall aesthetic of the bridal party. Remember to prioritise comfort, age-appropriate choices, and the traditions and etiquette associated with the flower girl's role. With careful planning and attention to detail, your flower girl is sure to add a delightful touch of beauty and joy to your wedding day.