RGB smart atmosphere lamp with mobile wireless charger
Are you looking for a multi-functional desk lamp with premium and stylish look yet very affordable? Imagine having the convenience of a black lamp, the beauty of a sunrise, and the power of a speaker all in one device? Well, we've got you covered. Introducing the RGB atmosphere smart lamp with charger, a multifunctional lighting marvel that combines style, practicality, and affordability. This lamp is more than just a light source; it's a modern lifestyle accessory designed to elevate your living space. Here's a closer look at the impressive features and functionalities it offers:
Premium Design and Finish
The lamp boasts a sleek and stylish black finish that complements any decor. Its minimalist design adds a touch of modern elegance to your space, making it perfect for bedrooms, living rooms, offices, or even as a bedside companion.
Sleep Aid Light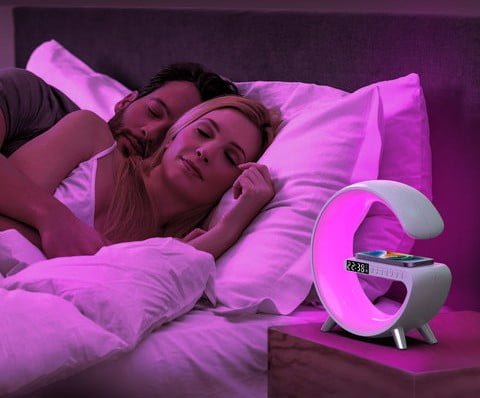 The best version of yourself starts with the best sleep. The smart LED lamp helps you relax before bedtime and get the sleep you deserve. It has an excellent built-in speaker and volume range, providing a soothing natural sound that effectively masks distracting noises at night to help you relax. The RGB lamp also has a premium, unique, gentle light alarm and wake up light which is recommended for establishing a healthy sleep and wake up routine for you, making it a must-have in your bedroom.
Sunrise Simulation Wake-Up Light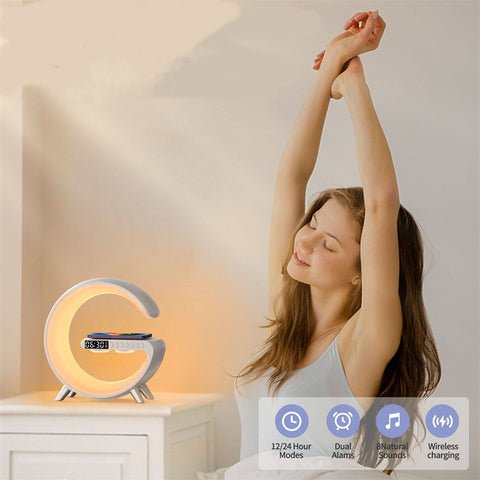 Start your day right with a sunrise simulation that mimics the natural light progression. With 100 levels of brightness (0%-100%), this feature gradually increases the light to wake you up gently and make early mornings more bearable.
Natural Sunrise and Sunset Simulation
Emulate the natural transition from day to night with this lamp's gradual light changes. Soft and bright colours induce changes in your brain activity, promoting a natural awakening and sleep process. The LED light gently brightens before your chosen alarm sounds, making waking up a breeze.
Bluetooth Speaker and Sound Interactive Lighting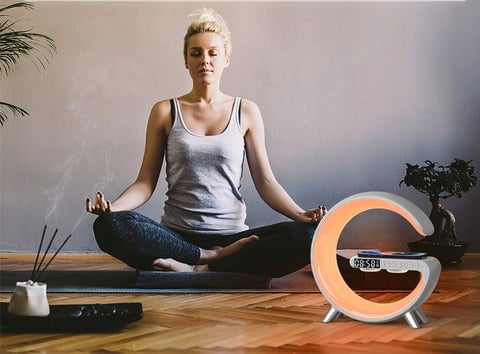 Immerse yourself in a world of sound and light with the lamp's integrated Bluetooth speaker. It boasts a 360° surround sound structure for high-quality audio that syncs with your music. Plus, the RGB lights automatically dance to the rhythm of your tunes, creating a mesmerising visual experience.
Fast Charging and Ambient Light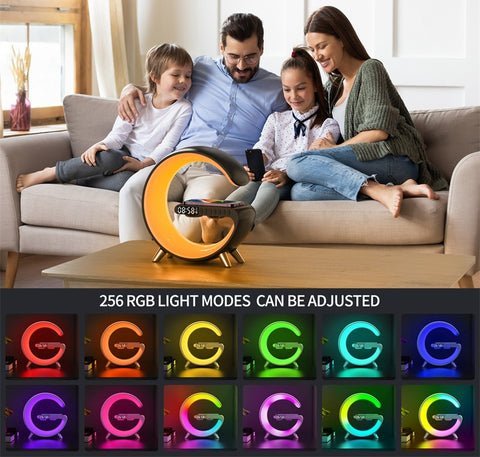 Stay connected with a powerful 15W wireless charging station for your mobile devices. The lamp doubles as an ambient light source, offering 256RGB dynamic lighting effects and access to 16 million colours. Control the RGB lighting effortlessly using the "Happy Light" app on your smartphone.
USB Charging and Portability
This lamp can accompany you anywhere, thanks to its rechargeable design. Charge it via the USB port of your computer, laptop, power bank, or any compatible device. Enjoy its portability without worrying about power outlets.
Versatile Usage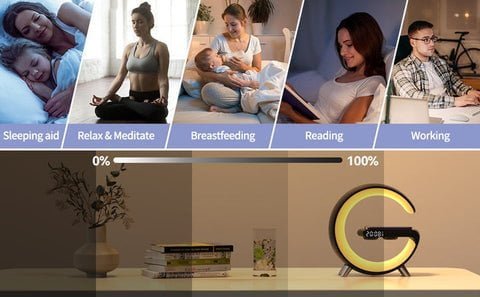 Beyond its lighting functions, this lamp serves various purposes. Use it as a wake-up light to establish a healthy sleep routine, a bedside light for nighttime reading, a working light for your desk, a multi-colour night light, or an atmosphere light for setting the mood. It's your all-in-one lighting solution.
Gift Ideas?
Searching for the perfect gift? Look no further. This lamp is an ideal present for family, friends, or your significant other on special occasions like Christmas, birthdays, or anniversaries. It's a gift that combines practicality, style, and modernity, sure to be cherished by the recipient.
Specifications
RGB atmosphere smart lamp with charger
Condition: New
Product Type: Smart RGB Lamp with Clock
Dimmable Light
Intuitive Button Operation
Alarm Clock
Bluetooth Speaker
Natural Sleep Aid Sound
App-Controlled RGB Lighting (Lifetime Free)
16 Million Colours and 256 RGB Lights
15W Wireless Fast Charging
Answer Phone Calls
Illumination: Up to 5000 hours on low power mode
Colour Options: Black (Also available in white and grey)
Upgrade your living space with the "RGB Atmosphere Smart Lamp with Charger." It's more than just a lamp; it's an experience that adds convenience, ambiance, and style to your surroundings. Say goodbye to ordinary lighting and immerse yourself in a world of colour, music, and modern living.
Package List
1x RGB atmosphere smart lamp with charger
1x USB cable